Discover more from Reimagining Politics Magazine
Pathbreaking political & social analysis grounded in real world citizen innovation worldwide.
The immensity of a minimalist life  
Bicyclist Holger Franz's heroic life of existential authenticity in a world dominated by empty consumerism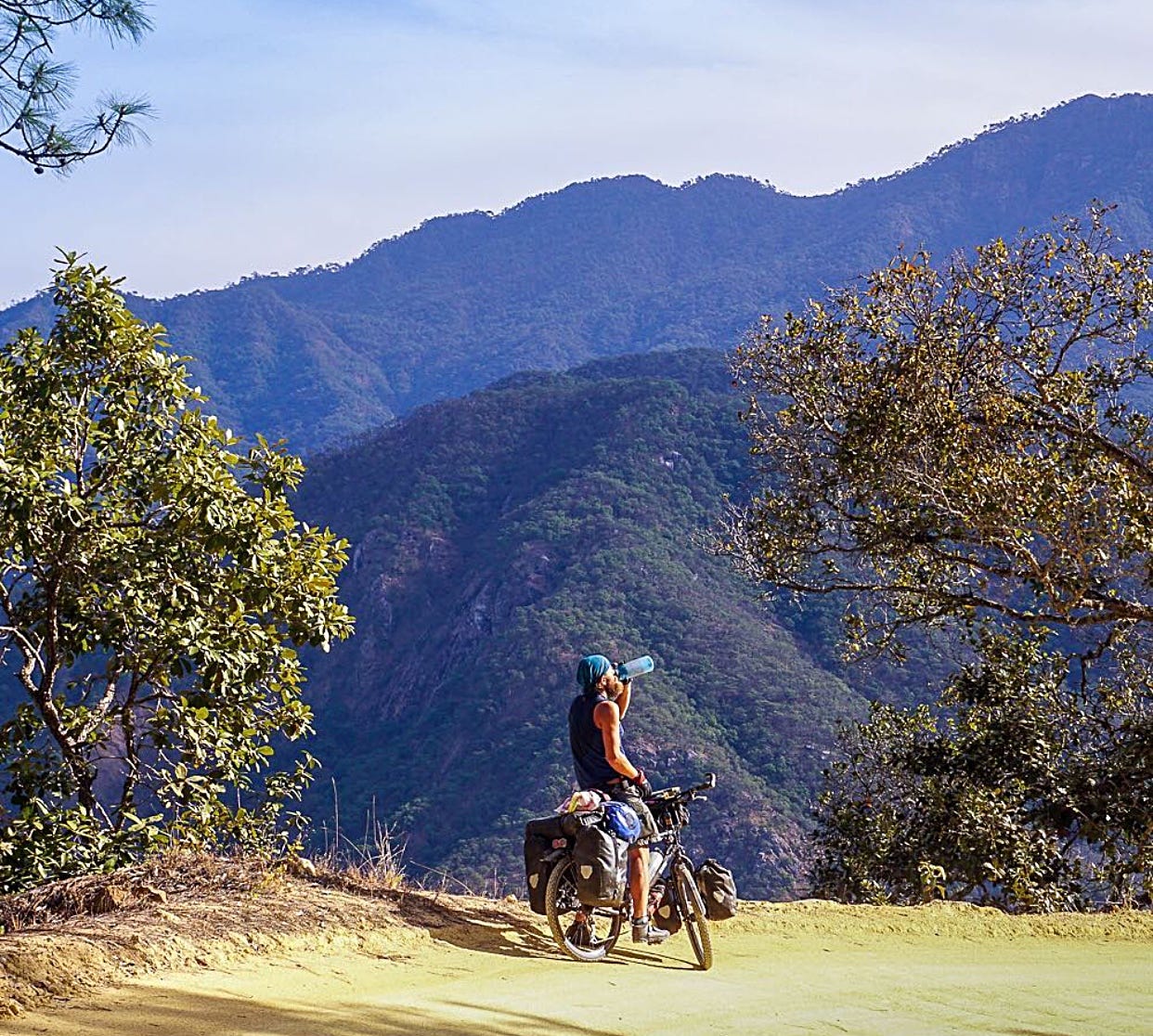 Holger pausing on a mountain pass in route from Puerto Vallarta to México City
HOLGER FRANZ left his native Germany to travel the world by bicycle in 2014, living on 10 euro per day until his murder in México in April, 2018, at the age of 43. (Holger's website)
During his epic journey circumnavigating the globe, Holger rode 62,000 kilometers through 38 countries, making friends everywhere and becoming a kind of underground celebrity in the bicycling community worldwide.  (Holger's Vimeo video channel)
Yet it was only after his death that the powerful political meaning of Holger's existential choice to live far outside the corrosive spectacle of globalized consumerism came into focus for those of us who were fortunate enough to know him.
This article is my attempt to tell part of Holger's story. In this time of global pandemic, the systemic bankruptcy of modern capitalism, and destabilizing political upheaval across the world, the simplicity with which he chose to live his life seems more meaningful than ever.

DEATH IN MEXICO
Holger spent a good part of 2017 bicycling across the US, posting wonderful anecdotes and observations on Instagram with a fresh perspective and often stunning photography, eventually meeting a French girl in western Canada and cycling down the coast to San Francisco with her.
He began riding across México in January, 2018, after several years traversing Europe, the US, Asia and Central Asia, including a trip through Tibet, where he was rescued by a truck full of monks when his bicycle broke down on a mountain pass, and Iran, where a local man took him under his wing and slept outside his tent at night to ensure Holger's safety.
Holger visited Puerto Vallarta at the end of January 2018 and stayed with mutual friends. That is where I met him. He planned to thoroughly explore México before heading south through Central America and the Andes, ultimately arriving in Tierra del Fuego, where he would take a boat back to Africa or Europe, eventually returning to Germany.
From Puerto Vallarta, he traveled to Guadalajara, Mexico City (where we reconnected briefly) and Oaxaca before arriving in the historic pueblo of San Cristóbal de las Casas in the state of Chiapas in mid-April, 2018. Along the way, he fell in love with México and its people, making new friends across the country. 
After a stay of several days, Holger left San Cristóbal the morning of April 20, 2018, with a plan to ride through the remote mountains of Chiapas to visit a friend in the Yucatán to whom I had introduced him. He estimated that it would be a two day ride to his destination in Ciudad del Carmen, but he never arrived.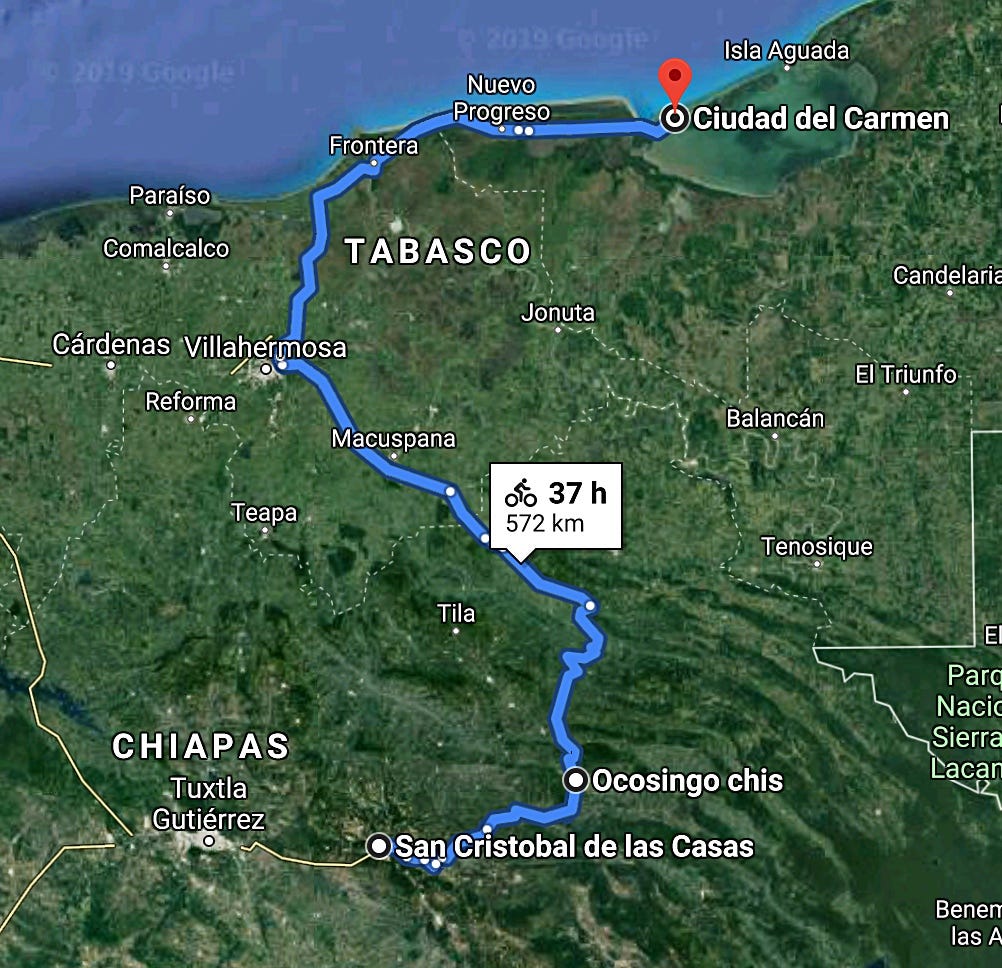 His last WhatsApp messages to friends in Mexico City and the Yucatán were also sent on the 20th. On April 25, 2018, I reported Holger missing to the German embassy.
In an ominous turn of events, the body of Polish bicyclist Krzysztof Chmielewski, age 37, was found in Chiapas on April 26th, the day after I reported Holger missing. Chmielewski had been murdered and his body thrown into a steep ravine alongside the same narrow road that Holger had planned to ride from San Cristóbal to Ocosingo. Chmielewski had been decapitated, his foot cut off and his heart cut out.
Holger's body was found further down the same ravine on May 4. He had been shot once through the head. 
Chmielewski and Holger were not riding partners, but coincidentally, Chmielewski also left San Cristóbal on April 20, several hours before Holger. Investigators believe that both men were murdered the same day, April 20, by the same people. The double homicide remains unsolved.
Holger was cremated in Mexico and his ashes flown back to Germany after a costly, months long struggle with Mexican authorities by his brother Rainer and his family to recover his body and bicycle. Rainer flew to México twice for extended stays to make a positive identification of Holger's remains using dental records and DNA analysis.
MEMORIAL IN GERMANY
The memorial service was held at the Catholic church in the medieval village of Gelnhausen, Holger's hometown, on August 4, 2018. More than 200 people were in attendance. In a grand gesture befitting the Homeric nature of Holger's life, Rainer used the savings that his brother bequeathed to bring Holger's friends from México, the US and Europe to Germany for the memorial weekend.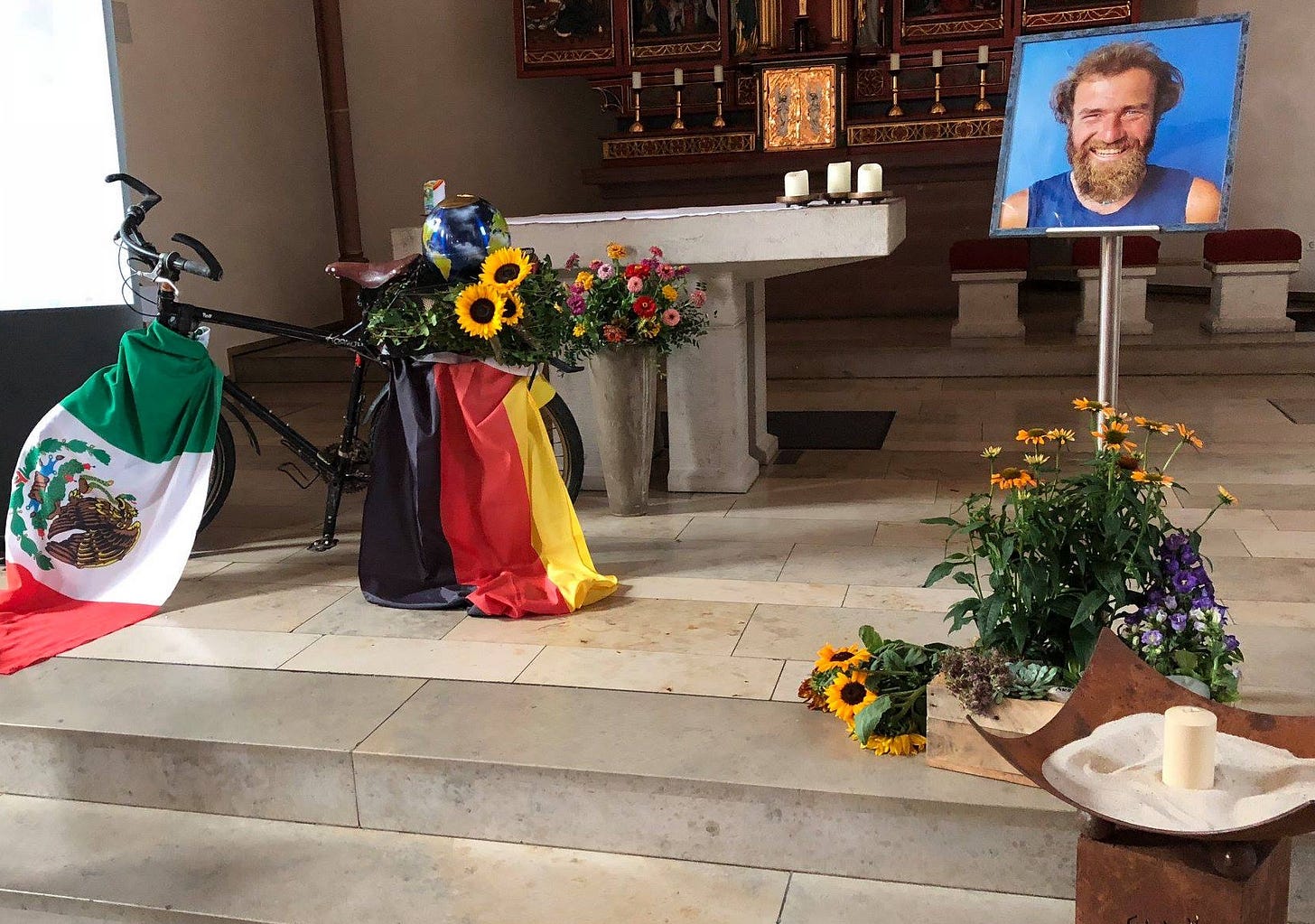 Holger's bicycle decorated with flowers and draped with both Mexican and German flags
In another act of grace, Rainer arranged for all of us to stay in a 14th century inn at the center of Gelnhausen's town square, where we had the opportunity to know one another over breakfast each morning and to share our stories of meeting Holger.  
After an incredibly moving memorial, we spent the afternoon and evening at a verdant rural country club, sitting on blankets on the sprawling, tree shaded lawn sharing stories about Holger, drinking beer and wine, playing soccer and frisbee, dogs and kids running freely. We shared a late dinner and more conversation and stories about Holger on the club's leafy green terrace that night.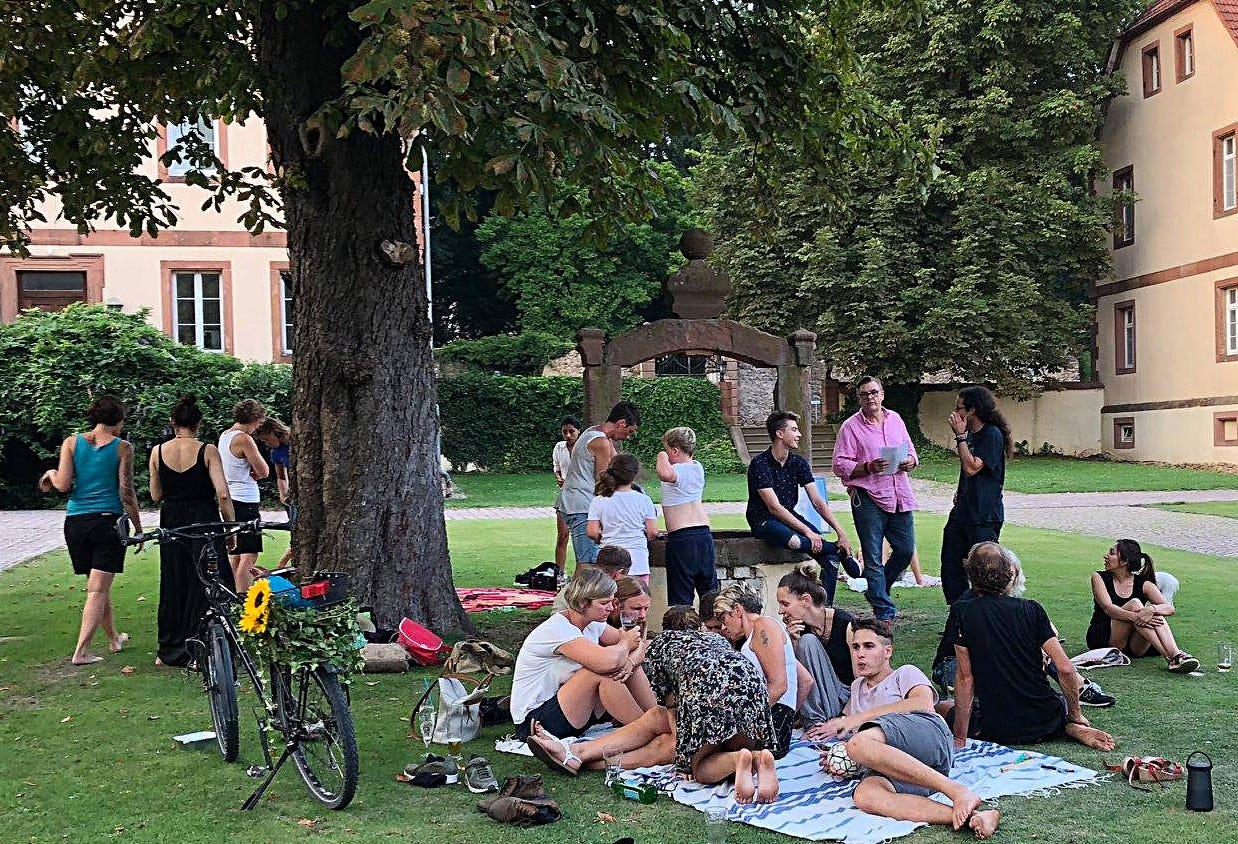 In the memorial sermon that afternoon, the African priest said that with the "immeasurable freedom" that God grants us, "Holger had taken the liberty to be happy, to live in a minimalistic way and to criticize consumption as the driving force of our way of life, not as something God-given, but made by people." 
He also noted that someone else had misused this same God-given freedom to make the decision to take Holger's life. 
While it is unlikely that the crime will ever be solved, the signature mutilation of Krzysztof's body cannot help but fuel speculation about a seeming narco-style assassination, especially since the mountainous route both men were riding is known to locals as dangerous narco-controlled territory.
Holger never used drugs except for an occasional glass of beer or wine. He did not smoke. Yet the possibility remains that perhaps Krzysztof and he stumbled onto something they shouldn't have, so to speak. This would be the ultimate irony because with tens of billions of dollars in illicit Mexican drug sales in the US and Europe every year, narco-trafficking is the quintessential expression of global consumerism's dark underbelly. 
Noted British journalist Ed Vulliamy, author of "Amexica: War Along the Borderline," states the case this way:
Mexico's [drug] war has no single propelling cause, no single objective, and certainly no grand ideology. It is a conflict of a post-political era. It belongs to an age of aggressive hyper-materialism. The drug lords are of course not alone in this. There are "legitimate" corporations all over the world whose only credo is greed and whose only iconic value is "the brand."

A QUIET HERO AGAINST CONSUMERISM
Holger's criticism of the consumer lifestyle was implicit, not explicit. He was not an ideologue. He lived his beliefs, and it made him immensely happy. For those who knew him even briefly, his human flaws receded into insignificance in the face of his obvious happiness. The illusory metrics of modern social and financial success that dominate the inner lives of far too many people were not part of Holger's lexicon. 
Although consumer capitalism has swept the globe in self-proclaimed triumph since the end of WW II, its advance has come at enormous psychic and environmental costs. Philosopher Eduardo Giannetti describes a global crisis in the "psychic ecology" that mirrors an external ecological crisis in the physical environment.
In developed nations, debilitating economic and social anxiety have been identified as "society's prevailing condition," exacerbated by what author Kat Kinsman calls "weaponized uncertainty."
What does it look like when someone decides to live their life outside the data-driven nexus of financialized global capitalism and consumerist media hype? Although it is not yet illegal, one has to ask whether it is even possible. And if it is possible, what are the consequences?
Holger was one of the rare individuals who have answered such questions.

YOU REALLY DON'T NEED MUCH IN LIFE
Holger's background as a nurse in Germany speaks to his compassionate engagement with life, but in bicycling across the planet, he found a larger source of connection for his feelings. 
Alternating between long periods of intense solitude while cycling and camping alone in remote areas on four continents, punctuated by periods of equally intense personal intimacy when living and breaking bread with friends and acquaintances in cities, Holger had connected in a deeper way to both nature and society.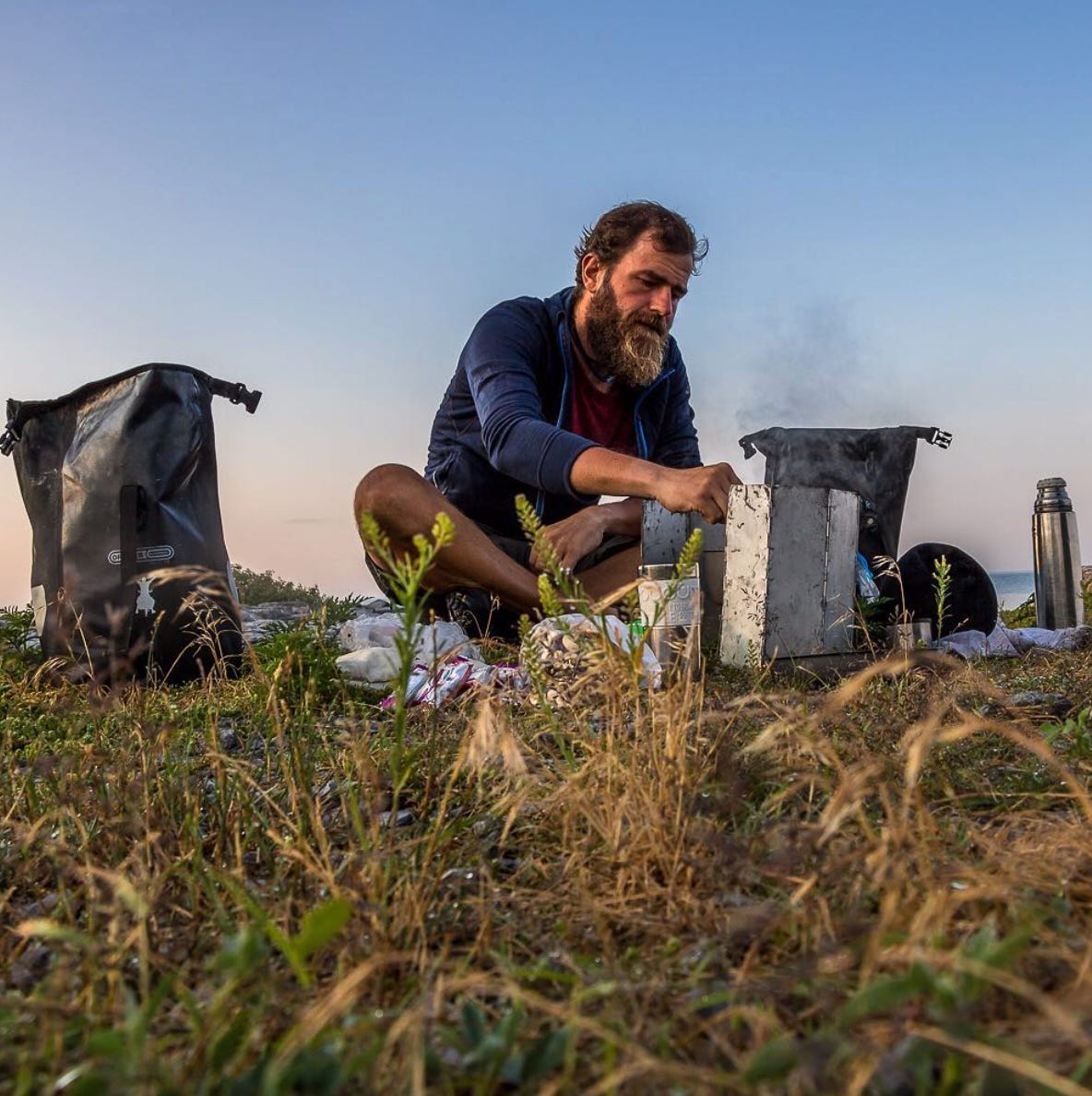 His Instagram feed is studded with entries about the simple joys of his minimalist life. On August 4, 2017, for example, next to a photo of Holger sitting in front of a steaming camp-stove (above), he writes:
"I love it to take my time in the morning, prepare breakfast, coffee and just look around or read a little bit. It's perfect to get the right mood for the day! Out in the nature coffee and porridge tastes ten times better than inside walls."
On April 17, 2018, a photo of Holger with his nose stuck in a bag of freshly laundered clothes (photo below) is captioned:
"There are little things in life that make you happy. Like taking a shower after a sticky week in the mountains or washing your clothes. You get so used to the smell of your dirty stuff (and dirty you) that it is such a heavenly moment to put your nose into the bag full of freshly washed (and smelling like flowers) textiles. You really don't need much in life."
For most people, his life will seem impossibly austere, but it is this contrast with the frenzied imperatives of ubiquitous consumerism that is most instructive. The simplicity of his observations and pleasures throws the senseless ephemerality of modern consumer life into stark relief, while today's global COVID-19 pandemic and unfolding economic collapse underscore his wisdom.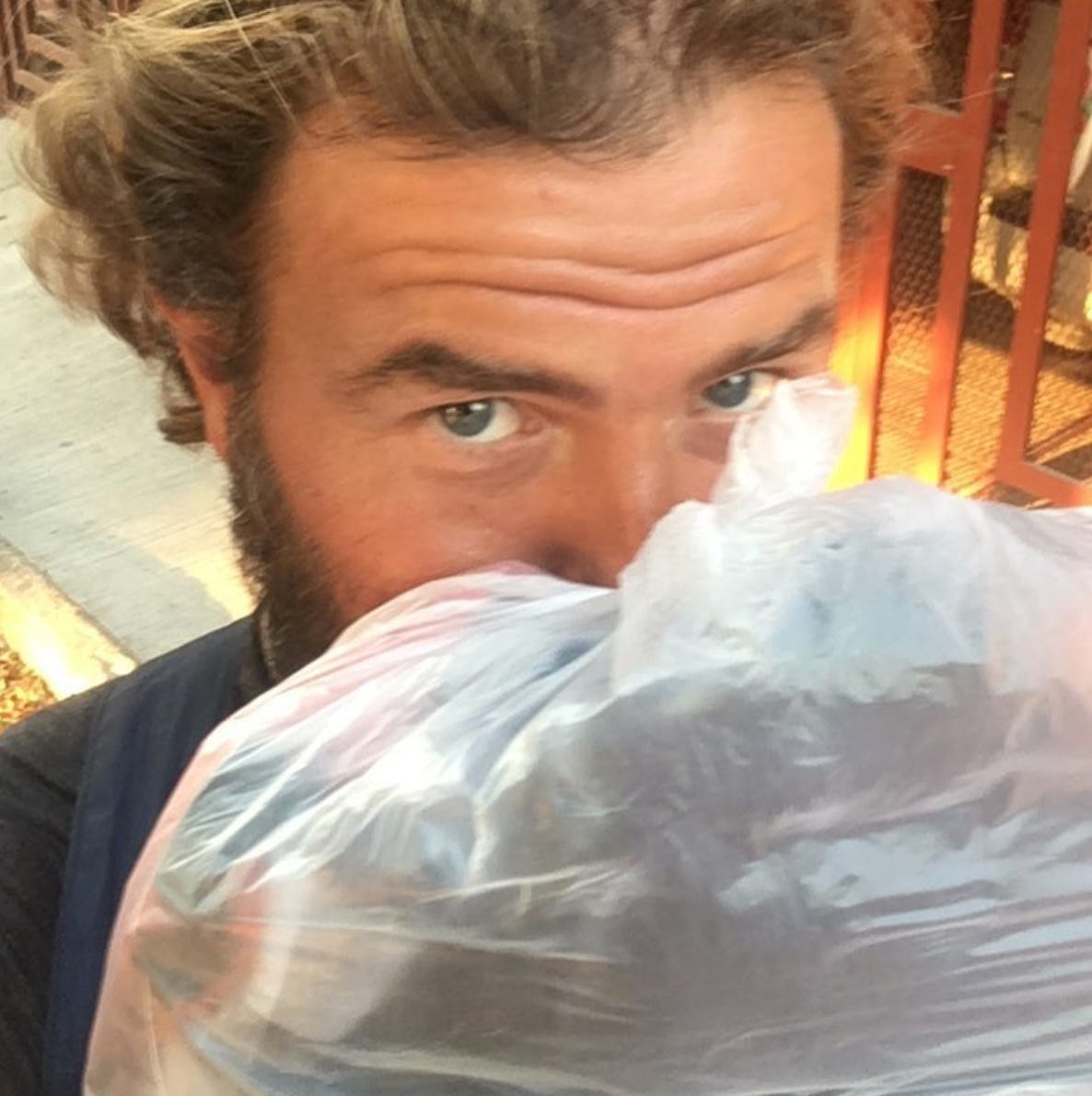 MEETING HERA IN THE ARCTIC
During a lunch conversation in a Mexican fishing village in February, 2018, Holger told me that he favored wealth redistribution of the kind Thomas Piketty proposes in his bestselling book "Capital in the Twenty-First Century." Holger was not a polemicist, but he had very strong feelings about the inequality he had seen worldwide. So did I, and it was an issue that bonded us. 
Our political agreement came from very different kinds of experience. Holger's views came from traveling the world by bicycle and seeing inequality and environmental degradation first hand at street level. My perspective was formed by years of political organizing and traveling worldwide the past several years exploring political innovation in Europe and the Americas. 
Yet until I met a young Dutch cyclist named Hera van Willick at Holger's memorial service, I did not fully understand Holger's attraction to bicycling as the perfect way to explore the world.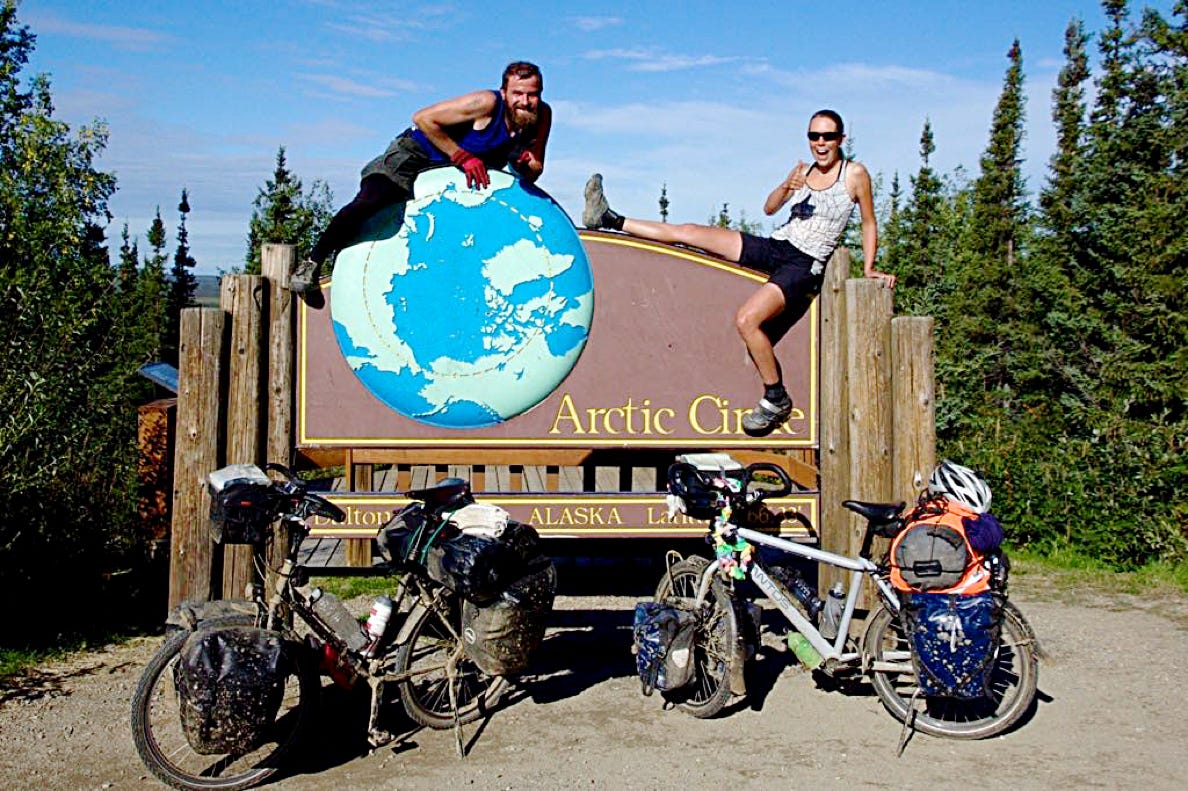 Holger and Hera at the top of the world
Hera was Holger's cycling partner on the Dalton Highway in the Arctic. Like Holger, she has bicycled through more than 40 countries, producing an eight minute, award winning mini-documentary titled "Pedal" about her experiences. Asked what Holger and she had seen and felt in the Arctic, Hera shared stunning descriptions of vast Arctic night skies filled with stars to the far horizon with the howls of wolves echoing across wooded, snow packed canyons. 
Camping at the primitive edge of the continent, Holger and Hera shared personal stories and explored deeply held beliefs. Hera talked about the constant presence of fear when pitching a tent alone at night in remote areas across the planet. Holger was more reticent, but clearly had the same feelings.
The "immeasurable freedom" that fueled their drive to continue exploring a world full of wonder often came at the cost of crushing solitude shadowed by existential fear. In the Arctic, they were united in a fraternity of two by this shared knowledge.
Yet on the road, the contrast between the vastness and beauty of the world's open spaces and the panoramic cultural diversity and teeming life of its great cities provided both Holger and Hera with a sweeping vista of our place on this planet. It was humbling and exhilarating in equal measure, leading to intense friendships and a kaleidoscopic array of inner experience that reflected their Homeric outer journey. Powered only by the strength of their own bodies, they were riding into an unreachable but palpable universe bordering the infinite. 
SAYING YES TO LIFE
In an August 5, 2017 Instagram post from a waterfront trail along Lake Ontario, Holger shared a photo of a tall vertical sign that displayed a list of prohibited activities – "no dumping, no golfing, no fireworks, no alcohol, no obnoxious or annoying behavior." Holger's post in response was simply "Say Yes to Life," and he also used a made-up hashtag #noisunacceptable.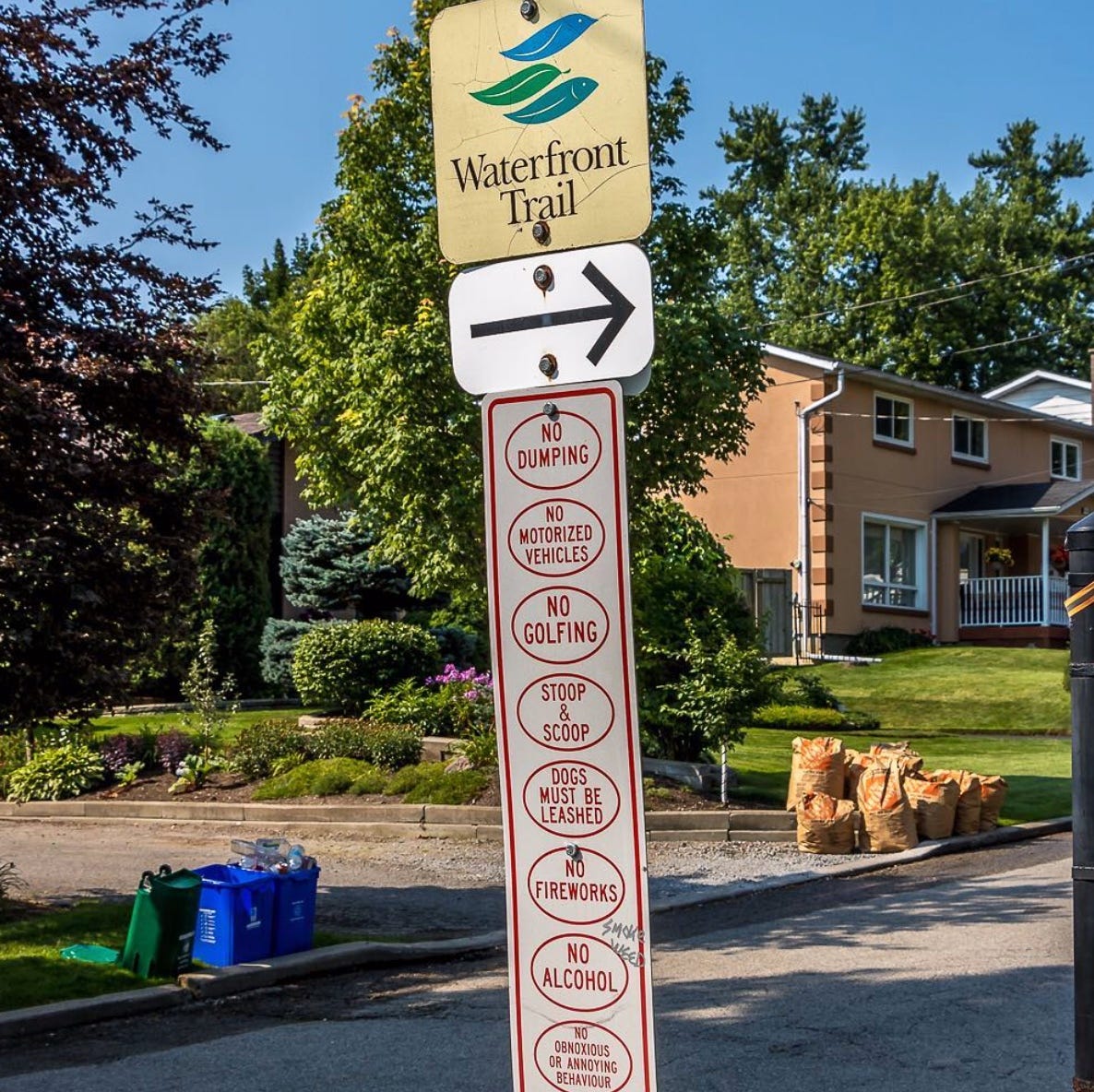 Holger and equally special people such as Hera are telling us by example that we do not have to accept the smallness of those who say "no to life" through destruction and greed. 
One does not have to ride a bicycle to say "YES to life." It starts with simply opening one's mind and heart to the idea that living freely in accord with our most humane ideals is more exhilarating and liberating than anything money can buy. 

NOTE:  I thank Holger's brother Rainer Hagenbusch, his wife Marion and children Nils and Nela for their grand generosity and hospitality bringing Holger's Mexican friends, including me, to Germany, and for permission to use the photos in this article. I also thank Mireille Acquart and Rita del Castillo for their patience during our adventures in Germany. Thank you also to Hera van Willick for sharing her beautiful and moving stories with me and with others in our group in Germany and afterwards, and for her permission to use the photo of Holger & her in the Arctic. Hera's website is here; her award winning short film Pedal is here.